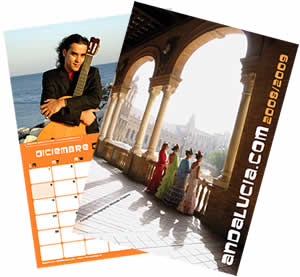 The Andalucia.com two-year calendar is hot off the press. Covering 2008 and 2009, awarding-winning photographer Michelle Chaplow gives us her unique perspective on Andalucía. There's everything from moody winter landscapes in El Torcal and the visual vibrant splendour of the spring Feria in Sevilla to mud bathing in Caños de Meca and an elderly couple in a remote white village using the most sophisticated technology!
This is the fifth edition of the calendar, which always creates a stir and has become a collectors' item.
"Michelle Chaplow draws Andalucian charm out of ordinary situations, reflecting her great sensitivity." -
On Live Magazine.
Michelle "really captures the essence of Spain" - David Clarke, Director of photography, The Tate, London.
Michelle's "calendars are very impressive" -
Larry Stafford,Library ofCongress, Washington D.C.